---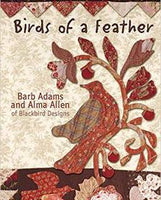 Sale
Birds of a Feather
Sale price $12.50 Regular price $24.95
Barb Adams' and Alma Allen's love of nature is often reflected in their quilts. Now the ladies from Blackbird Designs feature one of their favorite backyard birds in each of the blocks in the main quilt. The blocks are of varied sizes and come together beautifully to show off their artistry in this stunning quilt.
Barb and Alma offer their signature whimsical projects along with their lovely quilts. A cross-stitched purse, pillows, needlepunch pictures and a pincushion are just a few of the quick and easy items you will want to make.
Authors: Barb Adams and Alma Allen
Publisher: Kansas City Star Books
Publishing Date:2006
Cover: Paperback
Pages: 110
Condition: New.