---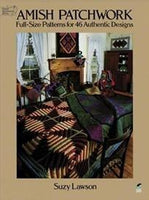 Sale
Amish Patchwork
Sale price $3.00 Regular price $6.95
This treasury of Amish patchwork artistry will introduce quilting enthusiasts to a wealth of traditional designs as ingenious as they are beautiful. Based on concepts and unwritten rules that hve long governed Amish quiltmaking, most of these lovely patterns date from the late 1800s to the early 1930s.
Contains full-size patterns and over 100 illustrations showing how to make 46 beautiful Amish-style quilts.
Author: Suzy Lawson
Publisher: Dover Publications, Inc.
Publishing Date: 1988
Cover: Paperback
Pages: 138
Condition: Like new. Pre-owned. Inscription on inside reads, "8-6-92 Visit to Indiana State Museum to see exhibit of Amish Quilts"