---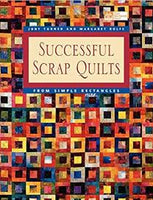 Sale
Successful Scrap Quilts
Sale price $12.00 Regular price $24.95
Create dazzling scrap quilts with dozens of block designs based on one simple shape--the rectangle. Two stars of the quilting world share their expert tips for turning a so-so scrap quilt into a smashing success.
Choose from 15 patterns based on simple one-patch designs--no tricky measurements or stretchy bias edges
Explore three key elements that add up to winning scrap quilts--the value, color, and style of printed fabrics
Learn how to scatter and blend your collection of fabrics for a perfect balance of variation and repetition--not too boring, not too chaotic
Includes 45 of the many different options for designing with rectangles
Authors: Judy Turner and Margaret Rolfe
Publisher: That Patchwork Place
Publishing Date: 2002
Cover: Paperback
Pages: 96
Condition: Excellent. Pre-owned.