---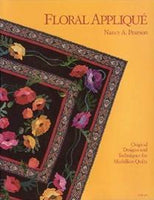 Sale
Floral Applique
Sale price $12.25 Regular price $24.95
Floral Applique, Original Designs and Techniques for Medallion Quilts is the book for every quilter and crafter who wants to "paint with fabric." Applique artist Nancy Pearson is internationally renowned for the spectacular beauty, exquisite workmanship and original design of her award-winning quilts. Her unique ability to "paint" flowers and leaves with fabrics is reflected throughout this book.
A series of illustrations and diagrams, including her unique "Twisted Fabric" technique and the No-Baste method, help you master the skills that garnered blue ribbons for Nancy. Dimensional Shading and Ribbon Illusions are only two of the many creative possibilities that will make you feel you have a front row seat in Nancy's most popular workshop. From shading a flower to creating a floral medallion center, Nancy shares her techniques and special hints for making applique easy as well as beautiful.
Gorgeous color photographs accompany Nancy's clear instructions. They will inspire you to begin "painting" with fabrics. Whether a beginner or a master of applique, you'll be delighted with the full-size patterns of her original designs, and the quilt layouts for using them. Floral Applique offers a wealth of detailed information to help you create a floral fantasy that is uniquely your own.isher
Author: Nancy Pearson
Publisher: Quilt House Publishing
Publishing Date: 1994
Cover: Paperback
Pages: 96
Condition: Excellent. Pre-owned.