---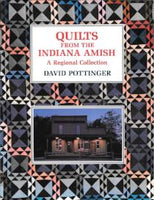 Sale
Quilts from the Indiana Amish
Sale price $7.50 Regular price $15.95
Here is the story of David Pottinger, a former plastics manufacturer with a deep love of American antiques of all kinds, who became fascinated by the special beauty of the Amish quilts created in Indiana and decided to form a collection that dates from about 1875 through 1940. What makes the collection particularly interesting and valuable is the fact that the author was able to document both the name of the quilter and the specific date of the piece for almost every quilt in the collection.
Author: David Pottinger
Publisher: E. P. Dutton, Inc.
Publishing Date: 1983
Cover: Paperback
Pages: 88
Condition: Like new. Pre-owned. Inside front cover has a small label removed.